Our Story
From Our Gate To Your Plate
Please Note
We will be closed the month of January. Sorry for any inconvenience this may cause. We will re-open on February 1st.
Welcome
Giermindl's Old Bavarian Restaurant features
authentic German cuisine served in a fun traditional Bavarian setting. All the meat dishes are produced and processed right here on our Giermindl Farm and government inspected abattoir - Adolph's Butcher Shop
Our Background
The Giermindl Holdings consist of 3 distinct enterprises namely:
This Bavarian (German) enterprise is unique in several ways:
It is owned and managed by 3 German girls and their Mother-Olga:
Maria manages Giermindl farm.
Inge runs the butcher shop and retail
Claudia oversees the restaurant
Farm Gate to Plate:
All meat is grown on the farm and is direct marketed to the consumer either thru the retail shop located on the farm, Fredericton Farmers Market or restaurant located on the farm.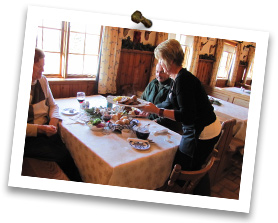 The Livestock
Produced on the farm are raised in an extensive (non-intensive) manner. They are traditionally housed and fed grain and forage produced right on the farm. The farm produces poultry, eggs, pork and beef all of which is processed in the provincially inspected abattoir.